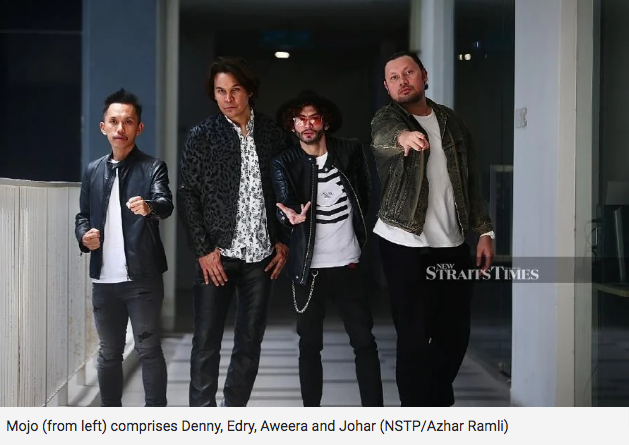 THE four-man rock band Mojo, KRU sibling Edry Abdul Halim's pet project in 2012 that delivered hits as Romancinta and Andai Ku Bercinta Lagi, is back with a bang.
Best of all, Aweera Norhisham, its original lead singer from Kangar, Perlis, has returned after "travelling" for a good nine years.
To mark Mojo's reunion, keyboardist Edry, drummer Johar, guitarist Denny and vocalist Aweera released their first single in six years, titled Superstar.
CYNICAL SONG
Superstar, part of a four-song extended play, may sound like a celebratory song about an artiste's rise to stardom, but Edry who wrote and composed the song said it is actually a "cynical" piece.
"It talks about newcomers to showbiz who want to become superstars, yet face lots of obstacles and challenges within and without," he said at the song's launch in KRU Music in Cyberjaya, Selangor recently.
LIVING IN MANCHESTER
Edry said the music video for Superstar was directed by Syahmi Afif, and it was recorded last year "between Kuala Lumpur and Manchester".
"I've been living in Manchester, the United Kingdom, since 2013 but now that my family has adapted to life there, I can now spend half a year in Malaysia with my band," said Edry.
Johar said that even though each Mojo member had his own musical projects, they would work as a band as often as they could, now that the Movement Control Order was over.
"Time really flies. The band is 11 years old this year. And now that Aweera has decided to be back for good, the time is right for us to release new songs," he said.
KEEPING IN TOUCH
Aweera said that even though he left the band after "differences" with Edry a decade ago, he still kept the friendship with his bandmates.
"I guess I was young and restless then. I'm now 31, older and wiser after working with about three rock groups in the last decade. I've learnt to see the bigger picture of things, and I've realised how much Mojo has done for me as a singer," he said.
START AFRESH
The Gegar Vaganza 8 (GV8) contestant said that he and his bandmates had apologised to each other for "past differences" and decided to start afresh as a band.
"The industry is small, so it is best to be a team player. My mission is to make sure that 'rock never dies'," he said.
BEST NEWS
KRU Music Sdn Bhd chief executive officer Datuk Norman Abdul Halim said that Aweera's decision to rejoin Mojo was the "best news" he had heard in years.
"He is a gifted singer, born to rock, and having him back will take us higher," he said, adding that each member had his own "colour" which added strength to the band.
YEAR-END CONCERT
Mojo plans to have a major concert at the year end, and is also scouting for a bassist.
Edry said: "The bassist need not be a guy, but he or she needs to have good rock experience. We want a bassist because I may have other commitments in Manchester and cannot always make it to our showcases and play the bass notes."
Prospective players can contact the band at its Facebook page.